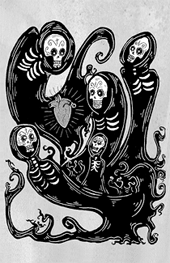 WELCOME to the series, EXPLORING DARK SHORT FICTION, an exploration of modern masters of literary short fiction, where horror is celebrated as literary, beautiful, and emotionally-resonant.
Cited as "visionary," this series of Primers include short stories, along with their light analysis, of progressive and outstanding authors who deserve wider recognition amongst readers. The darker genres of fiction offer some of the most exciting and contemplative works in the world, yet are often lumped together into one definition, rather than being appreciated for the diverse and purposeful distinctiveness they deserve.
PURPOSE: In general there's not a lot of discussion about horror writers outside of the horror writing community, and when there is—such as reading works specified in some college class discussion, or attending a panel of horror genre influences—the same two names who are generally given any academic credibility will come up repeatedly: Edgar Allan Poe and H. P. Lovecraft, and these authors being from generations ago. These names are widely recognized as the champions of poetic and descriptive dark prose, yet Lovecraft perished over eighty years ago, and Poe near a century before that. What they wrote is still compelling today but, so to, are there living authors whose words can shape the boundaries of our imagination, who can invigorate and capture our modern era tastes and sensibilities, who can connect to us in ways not possible by our literary forebears, names such as Joyce Carol Oates, Neil Gaiman, Tananarive Due, Junot Díaz, Ramsey Campbell, and a thousand others. Dark Moon Books wishes to rectify that by promoting these names for further study and recognition.
Each author in this series has been carefully selected by the following criteria: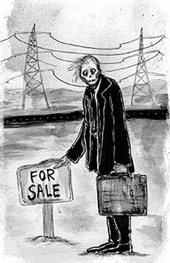 1) is still living;

2) is still actively writing (dependent, of course, on item #1!);

3) has a large, "influential" body of work including dark fiction in short story form that spans at least 25 years;

4) has, besides novels and other longer forms, a body of work including at least 50 short story pieces;

5) has received at least one major industry writing award;

6) is someone accessible;

7) is willing to write an original story for this series.

###

Certainly there are many authors who fit the above criteria. The challenge is to find writers that by their greater aggregate will compliment and advance each other—and the horror genre—by showing the depth of the form, the rich difference in voice and influence that is possible, rather than putting forth a number of similar styles and backgrounds.
For each primer the goal is to give a wide representation of who the author is, what they're capable of, and why they're important, without overwhelming the reader. To that end, included within each book are:
• A selection of six short fiction stories that in their entirety span a range of the majority of the author's professional writing career (i.e. examples from their early stages, mid-stages, and present stages of writing).

o The stories are both literary and include elements of horror (including subtle, psychological, or"weird") or dark fantasy (i.e. no science fiction works).

o Stories would appeal to a wide audience, and are meant for general readership, ages about 12-14 years old and up (i.e. no works of erotica or overt gore).

o Subject matter in stories represents a range of topics, such as origin stories, dystopian, action, mythology, fairy tale, monster, ghost, etc.

o Of the six stories, five are reprints, and one is original, written specifically for this Primer.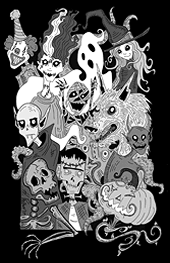 • Academic commentary by Michael Arnzen, PhD (former humanities chair and professor of the year, Seton Hill University)
• Author interview
• Author biography
• Author bibliography
• Author essay
• Beautifully hand-illustrated throughout by artist Michelle Prebich
• ... and more!

In a world of fast-changing tastes and values, there is one constant: Extraordinary writing carries on. Dark Moon Books and Eric J. Guignard would like to ensure that the purveyors of this writing be remembered.
Explore Dark Short Fiction, and be enthralled.
###
(For more about the purpose and future of this series, read further at RA FOR ALL: HORROR)